Old Navy Ventures Out Into the World, Opens Store in Japan
It's the brand's first shop outside North America.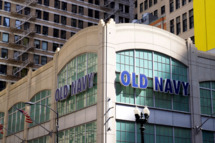 The brand debuted its first shop outside North America, anchoring a mall on the island of Odaiba. The target customer is apparently "the fashion-conscious mother," but, WWD writes, "Gap Japan vice president Masahiro Matsuda emphasized that Old Navy will make shopping fun for Japanese consumers of all ages, starting with the design of the store, which he likened to a theme park." Wheeee!