'It Feels Right' for Preen to Show at London Fashion Week
The brand debuted its collections in New York for the last five years.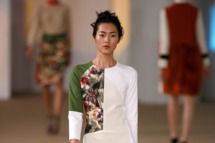 The brand, which debuted its collections at New York Fashion Week for the last five years, plans to switch it up this fall. Co-founder Justin Thornton told WWD, "We originally left for New York because we wanted to expand the business and grow internationally ... Today, London is a very different fashion week to what it once was, and it's a great place for us to show. It feels right to be here again." The British Fashion Council is thrilled!