Reporter Goes in Search of the 'Real Elle Macpherson'
And finds "a beautiful robot."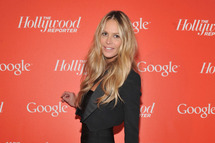 Referring to her as "a beautiful robot," the Telegraph's Bryony Gordon writes, "At times she trots out platitudes that make her seem like a doll in a toyshop loaded with pre-recorded phrases," and, "Oh, Elle! She speaks so much, yet says so very little" (and, to be fair, "I do like Elle Macpherson a lot"). Which is apparently how Gordon got a 1,968-word article out of her.