Rihanna Is Looking Forward to 'Creating Something Really Special' With River Island
"River Island is the perfect partner for me to collaborate with and working with a British, family-run business also really appealed to me."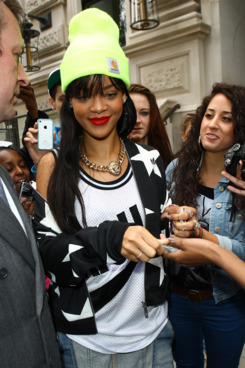 The singer and Styled to Rock host was apparently seen at the British brand's London headquarters in February. And one month later, she explained to Ryan Seacrest, "I want to design ... so I'm working with designers that I respect, and [fashion] companies that I respect," which obviously meant she planned to create a capsule collection for River Island to hit stores next spring. Rihanna said in a press release today, "I find London really inspiring and River Island loves to have fun with clothes. I'm looking forward to working with them and creating something really special." And CEO Ben Lewis added, "Rihanna is a style icon, from street to chic she enjoys her fashion." From street to chic? That has a nice ring to it. Look for Rihanna's single "From Street to Chic (Something Really Special) feat. Ben Lewis" — with the music video styled by Rihanna for River Island — come March.