Those Crazy Hooflike Shoes at the Helmut Lang Show Will Soon Be for Sale
They were inspired by&nbsp;<em>Game of Thrones</em>.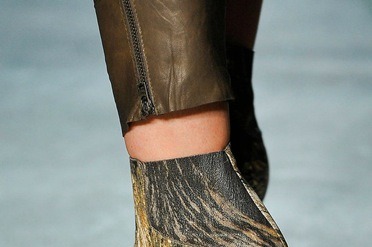 Designed by LD Tuttle, the shoes from Helmut Lang's fall 2012 show were apparently inspired by the rangers of the Night's Watch in HBO's Game of Thrones (come to think of it, there's definitely something Qhorin Halfhand–esque about them, no?). The dyed-suede wedge heels, available in both bootie and over-the-knee form, have reportedly shipped and will be in stores soon, according to a release. Just don't neglect the Wall, anybody.