The Six Most Amusing Trends From Menswear Spring 2013
<em>Magic Mike</em>&nbsp;goes haute, hats get surreal, and man candy takes on a whole new meaning.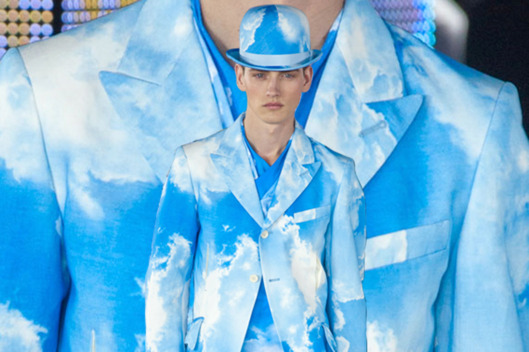 Amid all the well-cut suits and cheerfully bright sportswear, the menswear shows wrapped up with their signature tongue-in-cheek humor. This season, Band of Outsiders staged a show in a box, Versace sent belly shields down the runway, and Galliano featured an oversize lobster. And it wasn't just the lobster that was surreal — headwear was straight out of a bedtime story with oversize top hats, Magritte-inspired bowlers, and a fireman-inspired hood. Jumpsuits, a big resort trend, popped up among the mens' designers as well, proving to be the ultimate in easy his-and-hers dressing. Burberry, Lanvin, and Roberto Cavalli experimented with metallic fabrics, putting new meaning behind man candy. And, really, what would this slideshow be without a Magic Mike reference? Daks, Pierre Cardin, and Rynshu showed looks that beg to be worn (and then promptly discarded) by the likes of Channing Tatum, Joe Manganiello, et al. Click ahead to see all of these and more in our menswear wrap-up.
BEGIN SLIDESHOW