Stella McCartney Is Launching a Lingerie Line Dubbed 'Stella'
It will be available next month.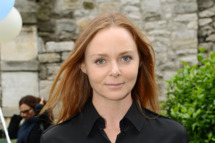 According to T, the designer has created five different bras ($55 each) and matching "knickers" ($26), produced from organic cotton and recycled metal, that will hit stores next month. Stella said, "Well-made lingerie is key ... It has to fit, function, and do its job first and foremost." She already has a corner on the Spanx-looking panels market, so underwear was the natural next step.