This Deely Bopper Can Now Be Yours for $190
It's made out of marabou.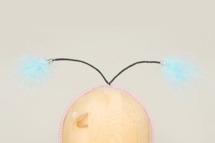 Headwear designer Nasir Mazhar fashioned these antennae out of marabou; they're now available at Opening Ceremony. Just think — you could wear them this weekend to keep your sweaty bangs off your face and simultaneously drive your cat crazy.