Tiffany & Co. Won't Settle for Just Any Old Scaffolding
They've commissioned Jude Law's sister to decorate it.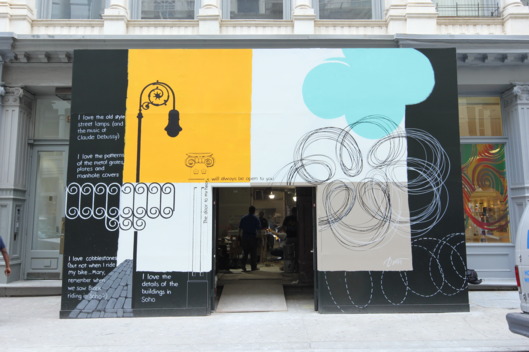 Tiffany & Co.'s new Soho location is set to open in September, but for now it's all boarded up while under construction. Rather than leaving the facade bare — begging for graffiti, random paper ads, or worse — the brand has commissioned a series of artists to decorate it with temporary works. Each artist will have one to three days to work on his or her project, which will then stay up for a week or so before the next artist comes in, according to a Tiffany & Co. rep. The first mural, created by New York–based Danielle Dimston, was completed yesterday and will be up until July 23. Other featured artists include Natasha Law (yes, Jude's sister!), Ellis Gallagher, and Danny Roberts of Igor + Andre. Gallagher will begin his piece on July 24, while the other artists' August dates will be confirmed soon.