Twenty-Nine Lightweight Denim Pieces for Summer
Just in time for the Fourth of July holiday.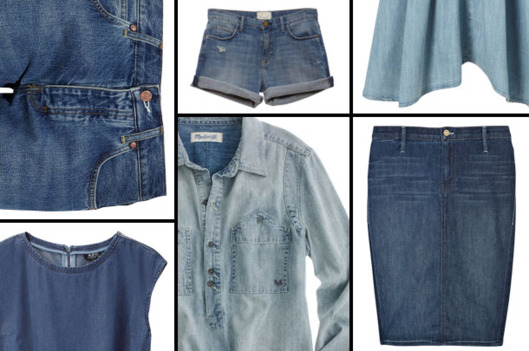 Clothing yourself during this never-ending heat wave is a daily challenge. While most days require some type of work-appropriate attire, tomorrow is the Fourth of July — a time to barbecue, lay out on a beach, and watch the fireworks, all activities that call for denim. Cutoff shorts might be easiest, but why not try a denim skirt or a dress? If memories of tattered and precariously short miniskirts have turned you off, this season's versions are less distressed and rendered in simple silhouettes. And should you somehow get chilly tomorrow night, cover up with a minimal white jacket by American Eagle or Acne's perfectly slouchy dark blazer. Click ahead to see 29 denim options in all washes and at all price points.
BEGIN SLIDESHOW