Los Angelenos Denied 20,000 Pairs of Fake Louboutins
If a lot of customs officials start wearing red-soled shoes to work, you'll know why.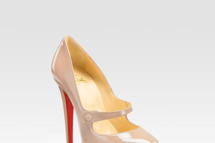 Customs and border-protection officials in Los Angeles seized four shipments of the fake heels sent from China earlier this week — more than 20,000 pairs total. (An earlier shipment was also intercepted on July 27.) A spokesman described the shoes as "very good counterfeits," with a projected value of more than $18 million had they made their way into swap meets or online. Instead, they'll all be destroyed — it's back to the DIY option if you can't quite afford the real deal.