Anna Wintour to Help Out With America's Favorite Pastime, Glee
She'll be doing Sarah Jessica Parker's costumes.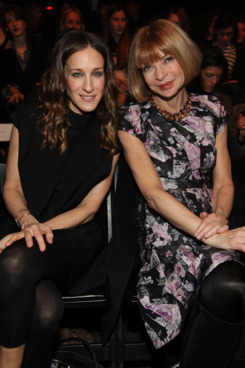 Let's back this up a bit: At Comic-Con, Ian Brennan, the show's co-creator and executive producer, told AccessHollywood.com that Sarah Jessica Parker would "be running Vogue.com" as part of her recurring role on the series's next season, describing her character as "frazzled, eccentric, [and] hilarious." But who could possibly style Sarah Jessica perfectly for the part? we wondered upon reading this news fifteen minutes ago. As it turns out, Ryan Murphy answered our question last night, tweeting: "Guess who's helping us with Sarah Jessica Parker's costumes on GLEE? The amazing Anna Wintour!" And the amazing mother of Bee Shaffer, who works for Ryan Murphy Productions ... but we're not complaining. As Brennan previously said, "It's gonna be good." It's going to be good, Mr. Brennan. Start practicing that now.