Are You Bothered By Prince Harry's 'Oversize' Chinos?
<em>WWD</em>'s editors are &mdash; the baggy pants cost him an A in their Man of the Week column.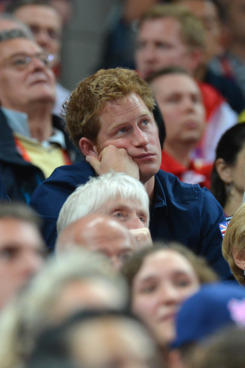 WWD grades Prince Harry's style in its latest Man of the Week column. He gets a scorecard full of compliments, with nods to his elegance, his "fashion sensibility," his "philanthropic endeavors," even, and his "athletic physique" — well-presented in a crisp white shirt by Stella McCartney for Adidas, part of the Team GB collection. But did he earn top marks? Sadly not, because he's wearing the wrong trousers — blue cotton chinos — which are, apparently, far too long and loose to be worn with his shirt and shoes. (WWD then suggests Italian slim khakis instead, failing to realize no good royal would be caught dead wearing foreign-manufactured clothing during the London Olympics.) So it's only a B+ for Harry, which surely means a stint in the Tower of London for one's butler/stylist.