You Can Soon Drape Yourself in Fabric, Just Like the Olsen Sisters
Scarves! And they're only $29.99 each.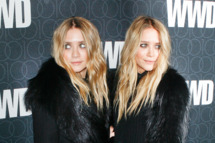 Nicely timed for the fall buying season, Mary-Kate and Ashley Olsen have announced an expansion of their Stylemint e-commerce line, which previously sold T-shirts only. The site will now offer a collection of tie-dyed, striped scarves; InStyle notes they're "cozy and soft," and it's a natural development for the Olsens, really — they do like to wander around in swaddling cloth.