Attention, World: Lady Gaga Is Now in Possession of Her Vogue Cover
She's just as excited as you'd imagine.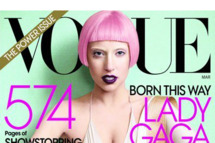 In case you were wondering when we'd all get to see it for ourselves, Gaga just tweeted, "AHHH! The Vogue Express dropped off the SEPTEMBER ISSUE yesterday morning. IM A COVER GIRL, and ITS FAB! Can't wait to show u tonight!"