Giorgio Armani Is in Great Spirits
"Life, I have sacrificed life."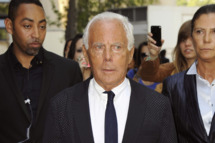 After telling British Elle that he's sacrificed his life for fashion, he turns on his Italian brethren (Cavalli, Versace, Dolce, and Gabbana), saying, "These designers have no reserve. They've chosen a path and thrown themselves onto it head first, regardless of everything. Whether or not their designs are sellable or vulgar. As long as it's new and people talk about it. That is the truth."