Harper Beckham's First Commissioned Artwork Is a Damien Hirst
Paid for by her parents.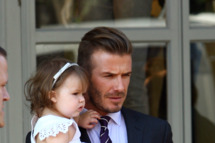 David told British Esquire that he named the painting of a lilac heart Daddy's Girl, adding, "I'm still amazed we have a little girl. I change her nappy and I'm still amazed that it's a girl. Amazing." Amaaaziiiing.