It Sounds Like Jamie Hince Really Needed to Talk to Someone About His Sartorial Issues
Clearly, Kate can't sympathize.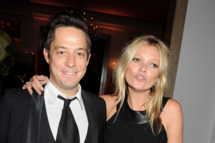 He told the September issue of British Esquire, "Hoodies. Can't do that. Trainers. I can't wear trainers. They look good on the shelf, but as soon as I put on a pair of trainers, I'm disgusted." According to the Telegraph, he also mentioned wearing "jeans with elasticated waistbands and clothing knitted by his mum" growing up. We'd like to hear more about that, please.