People Are Turning Their Neck Hair Into Eyebrows
Does this pain you as much as it pains us?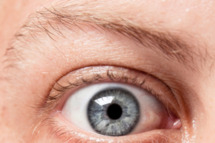 The Times talked to a purveyor of bushy brows in Beverly Hills, dermatologist Dr. Sanusi Umar. He transplants hairs from, say, the nape of the neck or the leg to patients' faces for about $6,000. And it only takes four to five hours. Umar remarked, "Right now Kim Kardashian is hot — that is, eyebrow-wise." Zing, Umar!