See Today's Royal (and Romney) Olympic Appearances
Kate Middleton waved, Ann Romney cheered.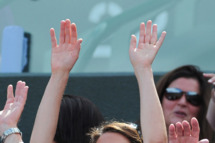 Kate Middleton cheered on British tennis player Andy Murray at Wimbledon, while Ann Romney rooted for her dressage horse Rafalca at Greenwich Park. And Charlene, Princess of Monaco continued to support swimmers competing in events at the Aquatics Centre, with husband Prince Albert II (looking slightly less enthused by all the watersports) at her side. See these new photos, and more, in our slideshow of famous faces at the Games.