Would You Pay Tyson Beckford $25,000 for a Lesson in Catwalking?
Great value for the money, surely.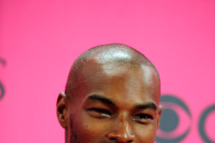 Meet Adam Sabbagh, a talented young man whose expansive Wikipedia page describes him as an "international actor, model, sportsman and businessman," not to mention 2008's Mr Lebanon Manhunt International. Not long ago Adam was seized with the idea that he'd like to bless the New York Fashion Week runways with his presence, but, having seen a few episodes of America's Next Top Model, realized he'd need some help with his walk. (How he won 2008's Mr Lebanon without a signature strut will have to remain a mystery.) He called Tyson Beckford — and one $25,000 payment later received a one-on-one tutorial on putting one foot in front of the other while brooding just so. Lincoln Center, here he comes.