Vionnet's Designers Have 'Interrupted' Their Job at the House
They're not in at the moment.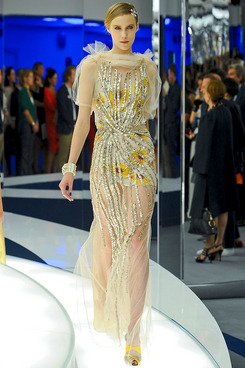 Rumors surfaced yesterday that Vionnet designers Barbara and Lucia Croce were clashing with their new bosses at Goga Ashkenazi, which bought the label three months ago. Today, the house confirmed that the spring 2013 collection will be completed by an in-house team instead of the Croce twins.
Here is the company's statement, according to Grazia:
Barbara and Lucia Croce have, currently, interrupted their collaboration with Vionnet SpA. The work on the current SS 2013 collection is being carried out by the in-house design team and we will be proud to present it on the 28th September in Paris, where we will also be celebrating 100th Anniversary of the brand on the 30th of September with a special event and presentation of the Demi Couture collection.
The Croces have worked at the house since October 2011, when they were hired by former owners Matteo Marzotto and Gianni Castiglioni, who still own a minority stake in the label. Barbara previously worked at Prada, Miu Miu, Gucci, and Ralph Lauren, while Lucia worked at Valentino and Neil Barrett. No word on how permanent their "interruption" will be, but doesn't that sound so much softer than "quit" or "firing"? We'll add that to the long list of padded expressions that are used in times like these, like "taking a break" and "completing their partnership."