Fall's Most Over-the-Top Fantasy Shoes
Twenty pairs to save up for (or just drool over).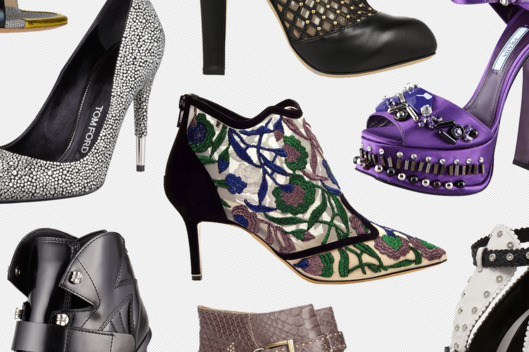 As if all of the Fashion Week street-style photos (and videos) focusing on shoes weren't enough to make you crave a new pair, take a gander at the fantasy footwear hitting stores right now. Behold: Shoes so gilded, so embellished, so outrageously pricey that their very existence seems to simultaneously offend common sense and induce unbridled lust. Costing upwards of $1,000 a pair (with the exception of the Pierre Hardy platforms, which at $930 are the bargain buy of this list), these designs have zero pretentions of practicality. Lanvin's heels in metallic python have five-inch heels and are studded with crystals. Proenza Schouler's woven open-toe booties are wearable for only half the year. Prada's jeweled satin peep-toes would suffice as an art installation but couldn't handle half a day of museumgoing. And Gucci's gleaming crocodile riding boots, priced at nearly $20K, defy any rationalization. Click on to see the twenty most ogle-worthy shoes of the season.
BEGIN SLIDESHOW