Lara Stone Plans a Bawdy British Burger Bar
She'll call the fast-food joint "Lara's Baps and Buns."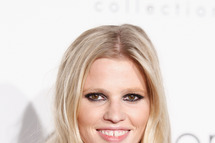 Should her modeling career dry up, Lara's got a backup plan: "I'd like to have my own burger place ... I'm going to call it Lara's Baps and Buns. I want a proper good chips place. They're all too fancy. [My life] is quite fancy, but I still like chips." That's a dollop of innuendo to go with your ketchup — baps and buns are British slang for breasts and butts, respectively. It's one surefire way to attract a hungry clientele, and the ad campaigns practically design themselves.