The Lindsay Lohan Look Book
From freckle-faced tween to <em>l'enfant terrible</em>.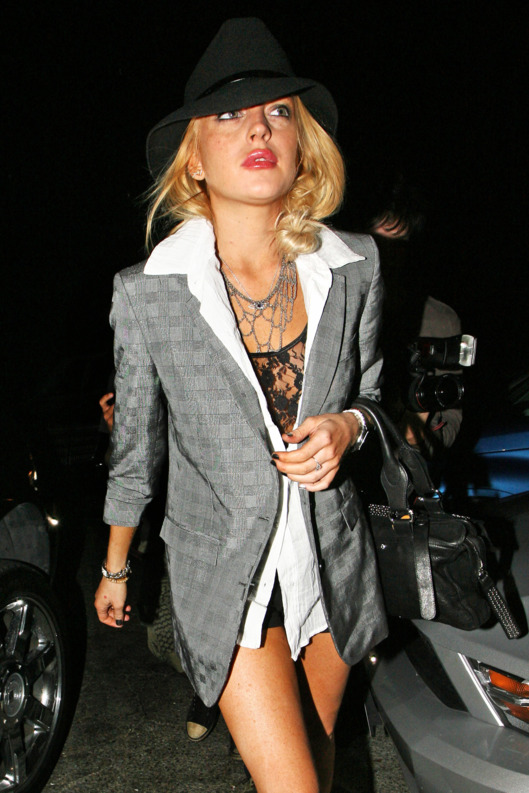 Lindsay Lohan first appeared on red carpets as a fresh-scrubbed, apple-cheeked 11-year-old starring in The Parent Trap. In those days, she dressed like most normal tweens did in the early aughts — think lots of Juicy Couture track suits, flared jeans, and babydoll dresses — her strawberry-blonde hair streaked with the occasional highlight. But as her star rose post–Mean Girls, she tackled edgier looks, swathing her newly adult figure in low-cut necklines and dying her hair a vampy deep auburn. When the tabloids began taking note of her activities, her fashion choices became even more pointed: She almost single-handedly started the trend of wearing leggings and slouchy tees in 2006, which she later incorporated into her own leggings brand, 6126, in 2008. It was around the same time that she began struggling with alcohol and drugs, which resulted in multiple trips to rehab; despite the negative attention, she remained hungry for the limelight, showing up to events in tight miniskirts and cleavage-baring tops, her hair color vacillating between bleach blonde and deep brown. Despite her checkered history and questionable employability, she remains one of the most carefully watched figures in pop culture today and continues to dress the part. Enjoy this look back through her most notable fashion moments, from the late nineties to the present.
BEGIN SLIDESHOW