Louise Roe Is Your New Fashion Star Host
She replaces Elle Macpherson.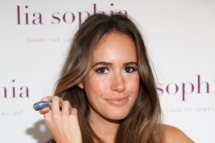 The Glamour editor-at-large has signed on to succeed Elle Macpherson, who announced her departure as host in June (though she'll remain one of the show's executive producers). Roe has some TV experience, according to the Daily — she hosted Plain Jane on the CW and has appeared on Access Hollywood. But do you think she'll be good enough to boost the show's ratings? More important, how is she with handling pyrotechnics?