Styling Staples: 55 Punch-Packing Pieces in Ten Great Looks
Eye-catching items for fall.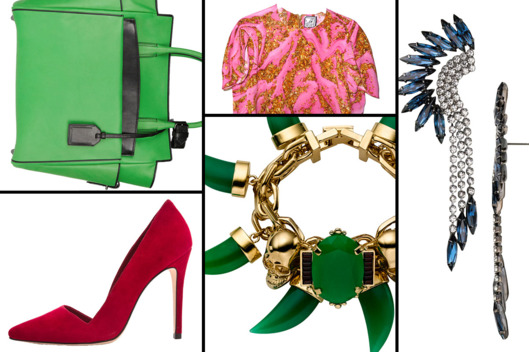 The pleated skirt, the metallic heel, a pop of bright red — there's nothing like that one statement piece that elevates your wardrobe, look after look, through one season to the next. We searched high and low and found 55 items that pack a punch and then styled them into two weeks' worth of looks. If you need a complete overhaul, try one or all of the outfits in our slideshow, or treat yourself to any single piece. Elizabeth Cole's blue mohawk earrings dripping with marquee crystals will add a jolt of glamour to any evening look; rag & bone's military chevron-striped jeans will sharpen up a classic white button-down; and those silver McQ creepers will bring metallic stomp to your walk. Regardless of your daily grind or personal taste, we've made sure that there's a statement piece here that will make you feel like everything you own looks new again.
BEGIN SLIDESHOW