Twenty Spectacular Dresses From Milan
Fanciful wicker corsets at Dolce & Gabbana, starry pleated gowns at Giorgio Armani, and more.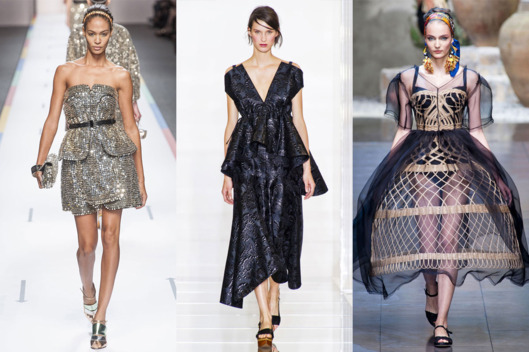 The fashion crowds have now left Italy for Paris, but before eyes turn to heavyweights like Balenciaga, Chanel, and Alexander McQueen, let's take a moment to enjoy the spectacular dresses from the Milan shows that spanned the practical to the fantastical. On the former end of the spectrum, Jil Sander made a triumphant return to her eponymous label, showcasing her minimalist expertise with crisp origami-style pleating. Over at Dolce & Gabbana, the collection was filled with the sights and textures of Sicily, including landscape prints. Roberto Cavalli took a subdued (well, relatively) turn with laser-cut gowns, while Missoni went reductionist on their signature zigzags. Prada and Emilio Pucci turned their gaze East, drawing inspiration from the traditional garb of Japan and China. And lastly, Fendi closed the show with Joan Smalls clad in a bejeweled minidress that looked heavy enough to anchor a yacht. Click ahead to see all of these and more.
BEGIN SLIDESHOW