Harry Brant Knows You See Him 'As a Brat'
We ran into him partying on a school night with January Jones.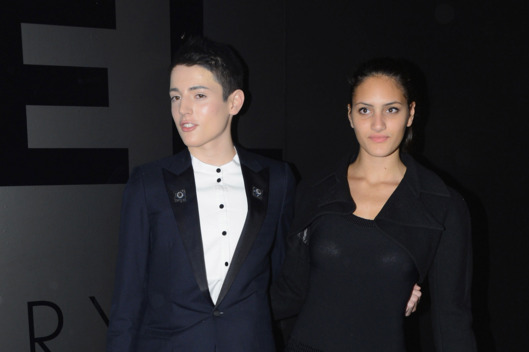 At last night's party for Chanel's Bijoux de Diamants collection at the American Folk Art Museum, 16-year-old gadabout Harry Brant perched on a leather ottoman in a dark corner. In a mere twelve hours he'd be due in forensics class at Rye Country Day. "Yeah, first period — bright and early," he said. So, that's what, 8 a.m.? "8:15," he corrected us, adjusting his Dior cashmere jacket. "Puh-lease. I'm not an animal."
But he insists fashion events make him better prepared for the school day. "I'm going back to CT tonight, and actually, when I go out like this, I end up sleeping more, because I'm tired," he said. When he's not carousing, he suffers bouts of self-imposed insomnia. "I'm crazy, neurotic," he said. "I can't handle it. I'm like, 'Oooh, I should reorganize my room.'"
Does he ever hang out with kids his own age, besides older brother Peter (who was not in attendance, as he was spending the night at Bard College)? "High school parties — I'm like, 'Okay, that's not how I do fun anymore,'" he said. "Everybody's always like, 'Why aren't you going to them?' And I'm like, 'I can't if I'm here,'" he said, gesturing to his surroundings.
Of course, Brant is well aware of the risk of being seen, in his words, "as a brat."
"People always say, 'No one would be friends with him if his parents weren't so-and-so,'" he said. "But you could be a Rockefeller, for example, and nobody would really care. We don't live in a day and age where your last name has that much to do with what people think of you. It's not the age of being pretty and funny and having a fancy last name and people will care about you. It's really about what you have to say and if people find you interesting. Otherwise there are thousands of people that come from distinguished families that aren't interesting."
Does he have to work more to distinguish himself given that he comes from a notable family? "I think I have to prove myself more than if I was, for example, from a town in the middle of Ohio," he said. "Because then people would be excited for me that I was doing all these things. But because I'm not, I have to fight that as much as I can."
Click through our slideshow of all the attendees at last night's Chanel party, including Blake Lively, Giovanna Battaglia, Elle Fanning, January Jones, and many more.
Related: Blake Lively's Ring-Flaunting Sparkle-Fest: A Multi-Zoom Analysis
BEGIN SLIDESHOW