Long, Strange Trip: Jim Mangan Captures Fall's Best Outerwear
One photographer, and his five friends, went hiking with Gucci, Prada, and more.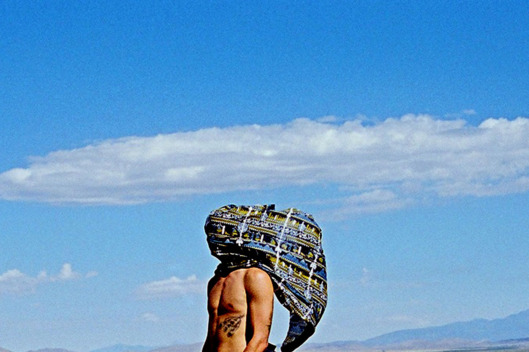 For this installment of the Cut's Out of the Box, photographer Jim Mangan carried our trunk full of Gucci capes, rag & bone coats, and Prada furs — along with five friends and an assistant — to a deserted gold refinery, built into the side of a mountain in Eureka, Utah. The gang had to hike up steep terrain to reach graffiti-adorned structures, and they spent the day climbing on "rocks, boulders, anything" in luxury outerwear, "a good test for the clothing," as Mangan put it. "I tried to show an urban environment surrounded by wilderness. There's this vast, green, lush landscape with a lake below and then, above, the old processing vats."
The 39-year-old-Mangan has been only been shooting for publication since 2010, and doesn't want to discuss his professional life pre-photography. "I left my job — my real job, so to speak," he says, "to do a series of art projects. The camera became a tool to document the ideas I had in my head. And so, I took all of my savings — everything — and I didn't know what was going to happen." He sent his first series, Winter's Children, to Vice, which was published in the magazine's June 2010 issue. As editor-in-chief Rocco Castoro put it, "We were very impressed that Jim convinced a bunch of his friends to drop trou and slide down craggy rocks with their genitals flopping about in the cold, but we were floored once we learned that it was one of his first serious stabs at taking photos for publication." He's since gone on to do two more Vice covers. Click on to see the work and hear more about the shoot. As Mangan says, "It's very simple: You use the environment, you use what's there in a very organic way. And you enjoy it."
Fashion market editing by Michelle Reneau.
BEGIN SLIDESHOW