Photos: Bergdorf Goodman's 111th Black-Tie Birthday Gala
Which fashion people hope to outlive the store?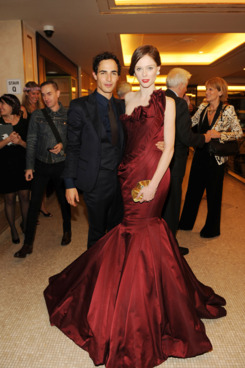 Fashion people are so youth obsessed, we were surprised that guests at Bergdorf Goodman's 111th birthday party last night embraced the idea of aging. It wasn't that late when the Cut arrived at the Plaza, but lots of models and designers were already making their way home, like old people, because they thought the party was hot and crowded. Inside, we found a lilac-tinged paradise filled with petit fours, puffy clouds, massive stuffed mammals, and a white-suited band playing Cyndi Lauper songs, as well as some committed partiers and actual old people — Iris Apfel and the director Albert Maysles, who is making a documentary about her. "I've been here four times," said Maysles, sitting on an ottoman while his date hunted down Linda Fargo to say good-bye. "The Rolling Stones, the Beatles, Truman Capote — the famous Black and White Ball. I was here." How did this party compare? "Oh well, [it's] nothing to compare with that. All those famous people that were friends with Capote." To be fair, there were famous fashion people there, many of whom shared their thoughts on turning 111. Click ahead to learn who is looking forward to that.
BEGIN SLIDESHOW