Voguing: The New Generation
The Kiki houses pick up where <em>Paris Is Burning</em> left off.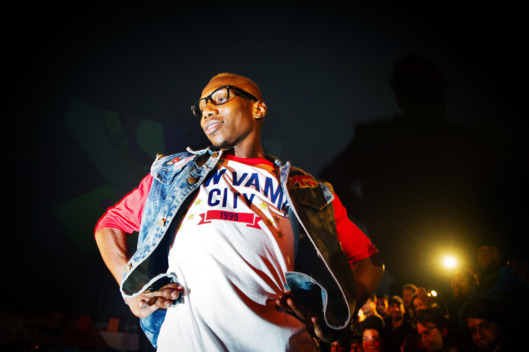 "Big girls battle," M.C. Snookie Juicy Couture cried out, calling a pair of chubbier guys to a stage set up in MoMA PS1's Performance Dome on Sunday night. The duo, clad in T-shirts and khakis, quietly excused their way through the crowd, before strutting back and forth and busting out a series of exaggerated dance moves in front of the dais of seven judges, who had a difficult time settling on a winner.
MoMA PS1, along with Artbook, Document Journal, Proenza Schouler, Damiani, Leitzes & Co., Mood Fabrics, and Faces NY, Inc., hosted the weekend's Movement Ball, which began with a fifteen-minute-long clip from Gesture, a film chronicling the Kiki scene, by Sara Jordenö and Twiggy Pucci Garçon. The Kiki houses, chiefly for 12- to 24-year-olds, evolved from what's now referred to as the "mainstream scene" — the one depicted in Jennie Livingston's 1990 documentary Paris Is Burning — that scooped up members of New York City's black and Latino LGBT communities, giving them a family (the "houses") and a means to celebrate themselves (the ballroom competitions). "The mainstream scene is more like the varsity, full-blown ballroom scene, and then the Kiki scene is a smaller, J.V. version," Garçon, 22, told the Cut. "One of the main differences is that a lot of the agencies are supportive of the Kiki scene, so we push all these pro-social, pro-health, and prevention messages at the balls, in the categories ... whereas the mainstream scene, they do everything on their own."
Case in point: the Kiki House of Pucci, founded by Garçon, is "named after the designer, but it's an acronym for Peers United for Community Causes Initiative. So, as a part of my house, we have mandatory community service, and everyone either needs to be at school or working. We kind of shifted the focus so that it's not just ballroom participation, it's outside of the ballroom, too." Jordenö agreed, explaining, "It's much more pro-social. They care a lot about safe sex practices. For me, they're a lot more political ... there's usually a prize for the balls. But it's important, for the Kiki scene, that it can't be too high, because then it becomes really competitive like the normal scene. So instead, like today, part of the prize is dance lessons for the house." And $500 cash, a $250 gift card to Mood, a group photograph, and a PS1 bag. Yes, that kind of PS1 bag. (The Unbothered Cartiers won.)
Sunday's ball was the second thrown by Jordenö and Garçon — over the summer, they put together the Reincarnation of Rockland Palace, held where the famed venue used to be. "It's interesting, because it's a very famous event hall — not just for the ballroom scene, but many kinds of histories intersected there," Jordenö said. "And, now, it's just a parking lot. There's no plaque, or there's no remembrance, so it really felt like we activated the site again with this new generation that might not know about this — or didn't know about this — queer history." Garçon remembered, "We wrote the theme, wrote the categories, put it out there, and by the time we finished, there was a tent, there was a runway, tables, and a full-blown ball ... it was nothing short of amazing." The balls are an integral part of Gesture, and are still a work-in-progress, Jordenö remarked. "We decided to start giving back to the community while we were still in early stages of production ... it made them trust me more. Of course, they trust Twiggy. And though [tonight] is still a very early stage to show something in progress, but it feels good because, the [Kikis] will see what it is. You give back."
We can say with confidence that everybody felt good at the Movement Ball. With the audience's cheers of, "Oh, shit, you got that Pucci fired up!" it was impossible to get even a screamed word in edgewise, much less an interview. But after the festivities, the Cut ran into Omari Mizrahi, 25, founder of the House of Pink Lady, the longest active-running Kiki house. "I joined the scene in 2004, and they called me a 'virgin,' or a beginner," he said. "One of my teachers had told me that every expert at anything, always starts off as a beginner. So, when he told me that — and I loved voguing, I loved house dancing, I just wanted to dance. I didn't think of it as a sub-dance or a subculture or anything like that. I thought of it as what I saw it — something creative, something that lets me go beyond my boundaries of just regular dancing. With ballet, modern jazz — you have so much technique you have to follow, but with vogue, it's just so fluid, it's so natural. I felt drawn to it and very comfortable to be able to just perform it, allowing myself to incorporate my own styles of hip-hop and African dance and ballet into vogue. It was a way for me to just release the tension of the day, of life ... this Kiki scene and ballroom scene, for us, it's like the media. It's where we get to be celebrities, where we get to be looked upon as icons and legends and stars."
The Movement Ball included a moment of silence for four members who passed away this year. When asked about mortality in the forms of AIDS, suicide, and murder in the LGBT community, Mizrahi responded, "We lose a lot of people in this community due to the epidemic, and due to the hardships that people go through, and the ways that they try to escape. And I think that's what makes this community strong — there's a lot of people out here that care for one another, whether they know them, whether they just met them ... it's sad to see any of our individuals, any of our talented goddesses and gods, leave this Earth. But it's like reincarnation — like the first ball that Twiggy and Sara had, the Reincarnation of Rockland Palace. It's like that. That's how I feel. Wherever there's that one, when his time ends, another one's time begins."
BEGIN SLIDESHOW