Anna Wintour Never Went on That Date With Stephen Colbert
You know, that one to the Cheesecake Factory. Or was it Long John Silver's?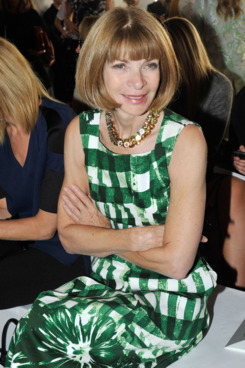 When Anna Wintour went on The Colbert Report back in May, she and Stephen made a date to (in his words) "go to Long John Silver's and just lose [ourselves] in a pile of batter-fried shrimp." Last night, he admitted to WWD that their rendezvous hadn't come to fruition. Worse yet, he couldn't even remember what kind of greasy food they'd planned to eat: "Where were we supposed to go, Cheesecake Factory?" he wondered. "We haven't gone yet, but I still hope." Hollow promises, Stephen, hollow.