International Street Style: Aussies Love Their Coats
From <em>faux</em>-shearling to real fur, Melbourne's got it layered up.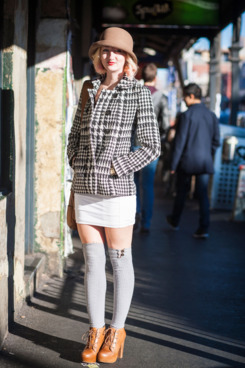 What sort of cold-weather wisdom could be gained from a city where the record low is a mere 27 degrees and the average hovers around 50? Jackets. Melbournians are big believers in the power of a coat, judging by the ensembles the Cut captured down under. The toppers are a varied bunch, from faux-shearling button-downs and classic navy blazers to graphic houndstooth and fuzzy fur. Accents like silk scarves, knee-high socks, and fingerless gloves finish each outfit for a look that's urban-ready and, in some cases, probably Urban Outfitters–inspired. Click through our slideshow for proof.