Miuccia Prada Never Wanted to Design Clothes
She would've rather worked in politics or theater.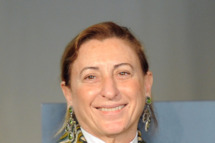 After studying political science and mime in an effort to break from her family line of work (her mom ran a shop in Milan selling leather goods and accessories), Prada couldn't escape the lure of fashion. She told the Guardian, "To want to be a fashion designer was really the worst thing that could happen to me. I thought it was dumb and conservative [...] But my education at home pulled the other way, giving me a taste for beautiful things, an instinct for fashion. I adored that."