The Apocalypse Shopping Spree
Since the world is ending on Friday, we "spent" $789,318 on luxury items we'd love to wear in our final hours.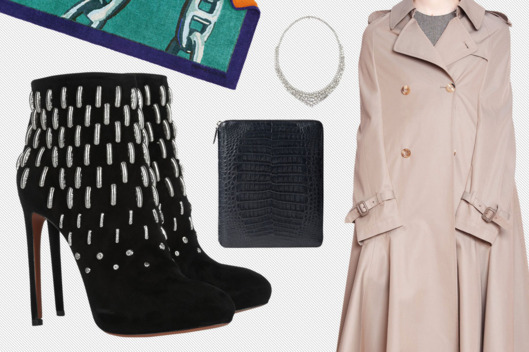 We're finally approaching the mythical date of December 21, 2012, which the Mayans tell us will mean the end of the world as we know it. Since we've only got a few days left, we've decided to get an early start on our resolution to go out in style, taking advantage of the simple fact that we won't have to pay our credit cards in 2013. For our purposes, we imagined fashion-heaven looking something like Versailles, permeated with the scent of Serge Leutens. It's a place where we perpetually picnic with Daphne Guinness and Emanuelle Alt on an Hermès Blanket whilst being served La Duree macaroons by Prince Harry and Johnny Depp. We would all try on each other's brilliant new purchases, remarking at the fun we had spending $789,318 in just a few hours of online shopping. Hopefully it all arrives before we disappear. And, while we all wait, click through our spending rampage — La Mer as body lotion, men's croc-skin accessories, fur, lingerie, a white Valextra suitcase, Alaïa shoes, and more — then tell us what you would throw in your own Apocalypse Shopping Cart. End times are nigh, and there's no end to things we'd buy if money were no object.
BEGIN SLIDESHOW