At In Vogue: The Editor's Eye Premiere, Everyone Dressed for Anna Wintour
Party snaps of the editors, models, and celebrities celebrating 120 years of <em>Vogue</em>.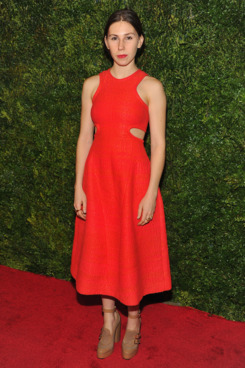 Last night, at the Metropolitan Museum of Art, the entire senior staff of Vogue came to watch In Vogue: The Editor's Eye, a documentary that celebrates the 120th anniversary of the magazine by showing how the images inside actually come together at photo shoots With Anna & Co. present, watching themselves on-camera, it felt like a pretty intimidating room, so the Cut obviously made it worse by asking models and celebrities in attendance —Arizona Muse, Christina Ricci, Sarah Jessica Parker, and Girls' Zosia Mamet among them — what it's like getting dressed to meet with ambassador Anna. While Ricci said a visit to 4 Times Square made her nervous, Mamet was unfazed in her red Carven cutout number: "I was like, oh my God, all the editors. Then I found something I felt really comfortable in," she told the Cut, "and I doubt Anna Wintour gives a shit about what I'm wearing." Click through to see who else walked the carpet and what they wore in the presence of Vogue.
BEGIN SLIDESHOW