Red Lipstick Isn't Just for the Holiday Season
Take it from Gwen Stefani.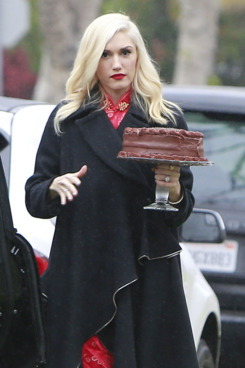 During the fifties and sixties, as you've likely seen on Mad Men, it was completely normal to paint on a bright-red lip for work, lady lunches, walking the dog, and, yes, fancy evening shindigs. It was an instant face-maker, a quick way to look polished and put-together. As beauty habits changed (or maybe it was red-lipstick fatigue?) and daily dressing became more casual, that era transitioned into a time when red lipstick was pulled out just for events that required a more festive look.
But then there's Gwen Stefani, who's managed to make a crimson pout her signature, everyday, getting-groceries look. There's Stefani carrying her Pomeranian puppy, hoisting around one of her kids, sipping Starbucks, and more, all the while wearing a perfectly painted red lip. She probably slaps it on as soon as she gets out of bed. Click ahead for evidence in our slideshow, which caps off with some red lipsticks to try out yourself — even after the holidays are over.
BEGIN SLIDESHOW