International Street Style: Dubai's Winning (Waist-Down) Style
In the Middle Eastern city, sneakers, leggings, and pretty skirts reign supreme.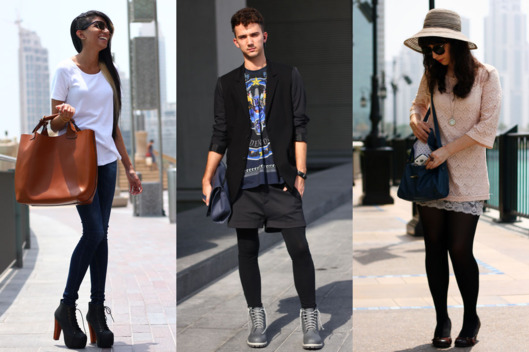 In the high-rolling Emirates city of Dubai, where the weather rarely dips below 60 degrees fahrenheit, they usually don't wear more than two or three clothing items at once: a casual short-sleeved shirt or tank top, paired with light, acid-washed denim, black leggings, or pretty A-line dresses and skirts on the young ladies who crowd these sunny streets. The footwear of choice is usually just as casual, though it's a more eye-catching mix of Nike dunks, strappy sandals, metallic shoes, and patterned espradrilles, paired nicely with cuffed-up chinos and a bow tie in at least one case that we spotted. The Cut sent photographer Tulip Hazbar to capture all that, plus some excellent accessories — ear horns, lowkey leather handbags, and chunky rings included — in the slideshow below, perfect for planning your own mid-winter escape.
BEGIN SLIDESHOW