Twenty-Five Crazy, Glorious Paloma Faith Hairdos
This is Lady Gaga–hair-bow territory.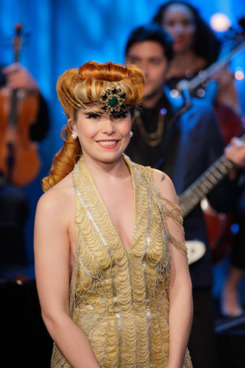 Last night, British singer Paloma Faith performed on Jay Leno's show and instantly caught our attention — for her voice and her humongous maharajah-worthy hair accessory. She's got a soulful Adele-meets–Florence Welch–esque voice, but her beauty look is completely Paloma-fied. She has a tendency to mix the retro (bouffants and cat-eye liner) with what must be a trunks full of theater props, to be jammed into her rockabilly hairstyle. There are the giant cherries à la Anna Della Russo, oversize bows that dip into Gaga territory, and fruits and florals in cartoonish homage to Jospehine Baker. Like Biebs and his swingy crop of yore, Faith's crimson mess of swirls and buns are her signature. Click through our slideshow as we introduce you to the wonderful hair-accessory world of Paloma Faith, where "normal" means a headdress that could pass for a gilded female condom.