Exclusive: DKNY's Line for Opening Ceremony
For club kids and couch potatoes alike.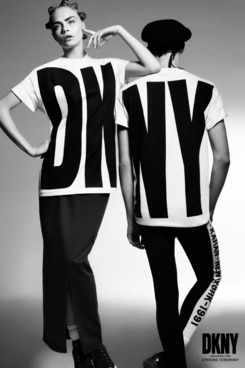 We are, indeed, living in a nineties fashion moment. And, obviously, the collab-happy kids at Opening Ceremony will soon get the most distilled version of that. On February 1, the international retail brand will launch DKNY exclusively for Opening Ceremony, a collection of hoodies, bodysuits, and other graphic, black-and-white sportswear that might make you rethink from whence Alexander Wang drew inspiration.
The digital look book, which features Cara Delevingne and a few models we won't name, has us hoping for some place to wear this stuff. Tunnel, perhaps? Rest in peace, club kids.