First Look: Bodies of Subversion: A Secret History of Women and Tattoo
Vintage images of incredibly inked-up ladies.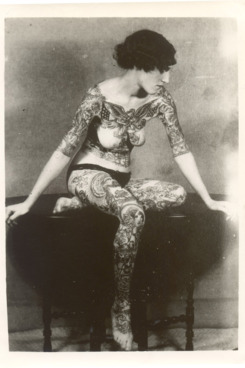 The year 2012 marked the first time in American history tattooed women outnumbered tattooed men. Although a centuries-old practice, tattooing only became legal in New York City in 1997. That same year, Margot Mifflin released her book Bodies of Subversion which beautifully documented the evolution of women and tattoos from Victorian couture to mastectomy scar coverups in the nineties. In the only book to chronicle tattooed women and women tattoo artists to date, Mifflin profiles tattoo trailblazers like seventies rock darling Janis Joplin, and the most famous tattoo artist in the world, Kat Von D, along with nineteenth-century circus ladies. An updated version of the book with never-before-seen images will hit stores this month. Catch a sneak peek in our slideshow.