How to Mix Florals With Leather
Take a slouchy printed bomber and layer it over a tough but tailored motorcycle jacket.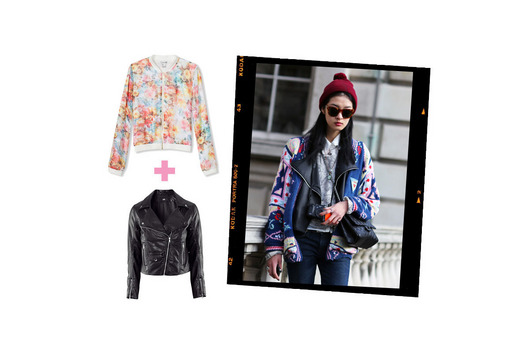 Introducing "This + That," a feature devoted to all of the little ways you can mix up your wardrobe, often using pieces you may already own (or if not, we give options to buy, at various price points).
The art of layering isn't always limited to clashing patterns; sometimes it's about unexpected contrasts, like a sweet floral silk bomber paired with a tough leather jacket. Drawing inspiration from a photo of model So Young Kang taken last February, the original look involves a vintage Spiegel cardigan thrown over an open motorcycle jacket. You may not be able to find the cardigan now, but as spring approaches, there are many graphic jackets that have the same slouch for re-creating this look. Make sure to size up so it fits easily over the bulkier leather jacket. Leave it unzipped to better show off the layers. Use this styling trick to transform a warm weather piece into a winter-appropriate one and add some color during a time when somber tones tend to dominate. Click ahead to see three versions of this look, at all price points.
BEGIN SLIDESHOW