On Social Media, the Best Behind-the-Scenes SAG Awards Beauty Prep
Jessica Chastain and Jennifer Lawrence were both caught in the bathroom.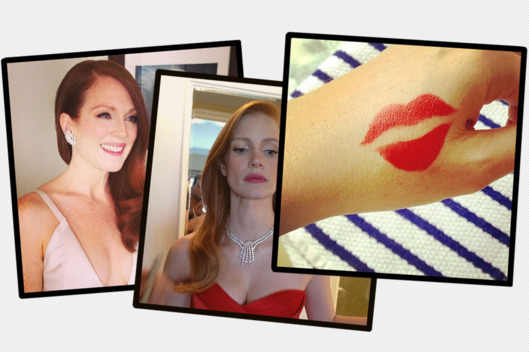 It takes a team of highly skilled hairstylists and makeup and nail artists to gussy up an actress for the red carpet. For this crew of talented artisans, their moment happens behind the closed doors of bedrooms, in open-air sunny kitchens, or under the incandescent lighting of hotel bathrooms. Not only are these people good at making pretty starlets look even better, but their Twitter and Instagram skills are fast and furious. Last night, some of the industry's best — from nail artist Tom Bachik to hairstylist Harry Josh — gave their loyal social followers a peek into the moments leading up to red-carpet time. Click through our slideshow to see Anne Hathaway's fresh polish job, a bathrobe-clad Rose Byrne, a shot of Jessica Chastain by a shower, and many more. Oh, and don't forget to follow them — Oscar night isn't far from now.
BEGIN SLIDESHOW