Tyra Banks Paves the Way for Young Model With Harvard Dreams
Karlie Kloss "can do it, too."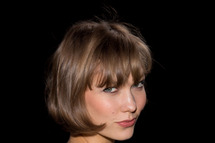 "Harvard at some point is in the plan, but all in good time," Karlie Kloss told Daily Front Row Berlin (hat tip Fashionista). "I have always had an interest in medicine; my father is an emergency room doctor. Now that I am getting more and more involved in these entrepreneurial projects I think business is something that would also be fascinating. To have a better understanding of economics and business, and the way to run a successful company. Tyra [Banks] did it. She went to Harvard business school. I can do it, too."