14 Neon Pieces to Brighten Up Your Wardrobe
Eye-searing brights that look polished, not raver.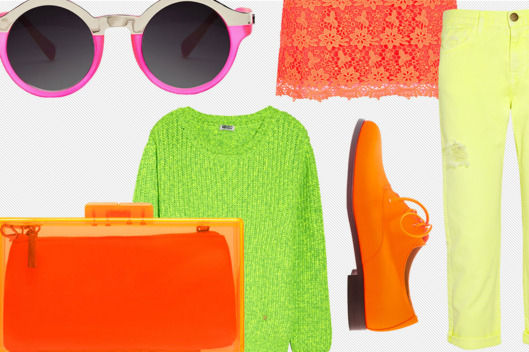 Neon usually gets associated with ravers and tacky eighties cast-offs. But at Stella McCartney resort, the designer incorporated the bright hues into knits, floral prints, and accessories that felt sophisticated, not ecstasy-ready. Rather than piling on the colors all at once, the idea is to use them as pops of color against winter whites or classic neutrals. Take Kenzo's latest acid-green sweater and try pairing it with cropped navy trousers to mix up your late winter wardrobe. When the weather warms up a bit, throw on MSGM's highlighter-yellow tweed jacket over a classic white tee. If you'd rather approach the look more subtly, a statement accessory like Boutique 9's patent pumps or J.Crew's lace jacquard heels will dress up your favorite pair of jeans. It might not be spring yet, but it's still time to break out some color after several long, dark months.
BEGIN SLIDESHOW