Anna Dello Russo Will Change Her Flight — for Marc Jacobs
When it comes to MJ, the London shows matter less.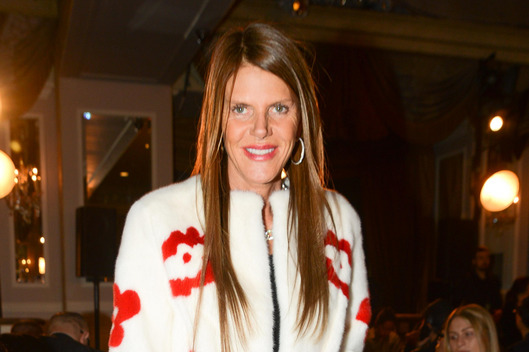 When we spotted Vogue Japan editor-at-large Anna Dello Russo in a white fur coat decorated with red flowers (Prada, but of course) at the Diesel Black Gold show this afternoon, we wondered if she'd been inspired by Valentine's Day, or perhaps last night's Thom Browne red-and-white extravaganza . Not at all, she explained: "I feel like a geisha in the snow!" She wasn't literally in the snow, but rising above it on flat platform sandals. "I feel so comfortable because this is a little bit higher, so you cannot touch the dirtiness," she said, gesturing to feet she was keeping warm with white stockings.
The only thing weighing her down, it seemed, was what to do now that the Marc Jacobs show had been switched to Thursday night, conflicting with her already-booked flight to the London shows. "I love Marc, but I don't know what I have to do," she said. "I am going to see tomorrow what's going on. I wish to stay, but let's see." Didn't she think it was a little unfair for the most prominent designer at New York Fashion Week to pull a switcheroo on so many editors?

"No, no," she said, sympathetically. "It had to happen. This is about the hurricane, the storming. Everything became complicated. If you don't get the right stuff, after six months of hard work, why you have to show?" Would she be as accommodating for just any designer? Certo! "I will support all of the designer, because we want to share the gravity moment with them." Of course, it does help to be Marc Jacobs if you're trying to get editors to rebook a trip to London. "The Marc can do that," said Dello Russo. "He deserve our passions. We will put our passions on him. We will move our flight."