The Best Behind-the-Scenes Grammy Beauty Prep Shots on Social Media
Don't act like you don't want to see Kat Dennings's ruby red kissy face.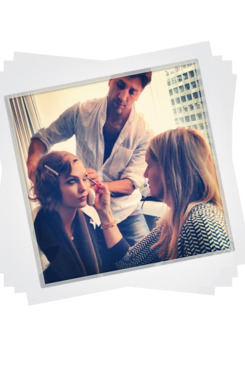 Last month we trolled Twitter and Instagram to find you the best behind-the-scenes shots of actresses getting red carpet ready, and now we proudly present the Grammy edition. New York Fashion Week isn't quite the same without leggy model Karlie Kloss, but according to her Twitter account she spent the evening getting ready to go red-carpet-side for her new gig at MTV's House of Style. Carly Rae Jepsen chugged coffee in a Twitpic before makeup artist Tina Turnbow put brush to face, and Chrissy Teigen, John Legend's lady, showed off sultry red lips and sleek legs on Instagram. Click through our slideshow to see these social media savvy ladies and more.
See all the red-carpet looks from the 2013 Grammy awards here.