Last Night's amfAR Gala: Carine's-Eye View
Following the world's chicest "gwan-ma" through Fashion Week's big kickoff.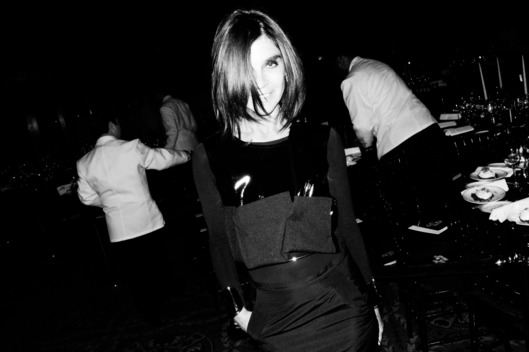 "No dress!" says Carine Roitfeld, asked what she is planning to wear the day before the Foundation for AIDS Research's annual New York gala. "Perhaps I will go naked, and make a big success." Yet when Carine appears on the darkened mezzanine of Cipriani's Wall Street ballroom, she is sheathed in black of varying textures and designers. "Can you imagine?" she asks, as the crowd swells during the cocktail hour. "Comme des Garçons, mixed with Rick Owens, mixed with Tiffany?" She admires the gold Elsa Peretti cuffs around both wrists, then touches a narrow gold string around her tiny waist: "And a little bit of Givenchy."

Carine surrounds herself with family, new colleagues from Hearst, and contributors to her own CR Fashion Book. The photographer Sebastian Faena takes an iPhone photo of Carine with her daughter, Julia, who wears a tiered strapless Dolce & Gabbana lace gown. "The most beautiful girl I've seen," says Faena. "You know Il Gattopardo, the Visconti movie? It's that."
Downstairs, Carine finds her table, just in front of the stage. She chats with Doutzen Kroes, in tangerine chiffon J. Mendel, and examines the place cards on the table. Bill Cunningham appears. Carine whispers something in his ear that makes him laugh, and introduces him to Misty Copeland — a ballerina who will appear in the forthcoming issue of CR Fashion Book — who Cunningham then photographs. "He calls me Firebird," Misty says. "That's the role that I played. The big poster in front of the Metropolitan Opera House last year was me on fire." The photographer turns his lens on Carine, who puts her hands into her pockets until he gets his shot, and then waves two peace signs in the air, laughing and kissing him good-bye.

Carine's son Vladimir joins her at the table and explains he has moved his art business into a permanent space on 78th Street. "It's a private salon that I transformed. I'm going to have presentations there," he says, as Derek Blasberg passes by en route to his table. "You got the invite?"

"For once, I got the invitation!" says Derek. As a voice over the microphone urges guests to take their seats, Vladimir's girlfriend Giovanna Battaglia arrives in shimmering bronze Michael Kors. Stefano Tonchi appears, and there is a mash of photographers and cheek-kissing. At the next table, a giant microphone boom hovers beside a video camera that follows Heidi Klum, one of the evening's honorees.

Maria Davis, a hip-hop promoter who was diagnosed HIV-positive in 1995, introduces Janet Jackson, who briefly thanks everyone for their contributions. There are accessories and art to be auctioned; Alan Cumming is onstage, and agrees to sing a song if a photograph's price reaches $15,000. When the print sells for $45,000, he and the band launch into an impromptu version of the drag anthem "Wig in a Box," from Hedwig and the Angry Inch. Carine claps and conducts from her seat. "I love," she says, afterward. "It's so funny. I think it's the first time for me in New York, people are so relaxed. People onstage are having fun. The woman before with AIDS was fascinating."

Copeland, "the Firebird," finally asks Carine for a photo. As Stephen Gan readies the dancer's iPhone, Carine rounds her arms into a practiced ballerina's first position. Before the evening ends, Harry Belafonte, Governor Andrew Cuomo, and amfAR chairman Kenneth Cole all thank the guests. They talk about fighting fear with facts and communication, and commend the $340 million amfAR has raised for AIDS research.

Cee Lo Green appears on stage. "Get involved!" he says, and Carine is the first to her feet. Soon her whole table is up. By the time Cee Lo sings "Crazy," Carine has advanced toward center stage and is waving her outstretched arms back and forth.

For more photos from this event visit: CRFashionBook.com
BEGIN SLIDESHOW