Look Inside Fashion Week: Girls in the Spotlight
Gorgeous, dramatic, and sometimes creepy moments backstage.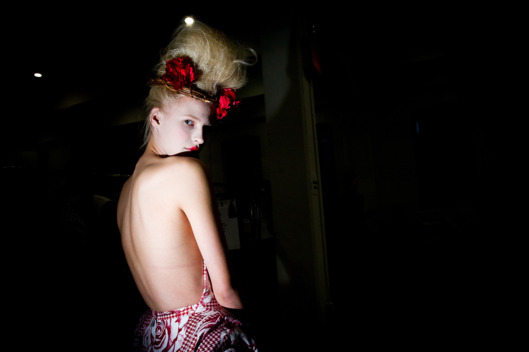 It's hard to argue with the obvious: The women who work the hardest during Fashion Week are the models. All those hours spent having someone else play with your hair and apply mascara to your lashes would get exhausting. It's enough to drive anybody crazy, which may be why the Blonds printed one of their dresses with the memorable face of Jack Nicholson from The Shining. Meanwhile, over at Thom Browne, the girls looked more dead than alive, with Kabuki lips and crowns of thorns. The sleek chicness of the Herrera women cut like a knife through the darkness, with Karlie Kloss throwing up her hands in a moment of release. See all of that, plus more moments from Thom Browne, the Blonds, Carolina Herrera, Narciso Rodriguez, Adeam, and Ohne Titel, in the slideshow ahead.
BEGIN SLIDESHOW